Dromim Regional Shabbaton!
Dromim Regional Shabbaton!
By: Hannah Solon | Mazkira of BA, Atlanta
Atlanta arrived to Silver Spring late Thursday night for BAMASE DROMIM! Joining high schoolers from Silver Spring, Potomac, Florida, Houston, and Philadelphia, we spent the weekend making amazing new friends and reconnecting with old ones. Activities started Friday morning when we all went ice skating! After rushing back to our host houses to get ready for shabbos that started much earlier than the Atlantans has ever experienced, we met back at shul for pictures and mifkad. Shabbos was filled with a ton of ruach and excitement from the amazing Kabbalat Shabbat, to every Galil learning the first perek of their section for the Siyum Tanach, to havdalah. The ruach continued Motzei Shabbos where we went to watch the Berman vs. JDS basketball games! Atlanta missed out on the Sunday activity since our flight was really early, but we had an amazing time nonetheless!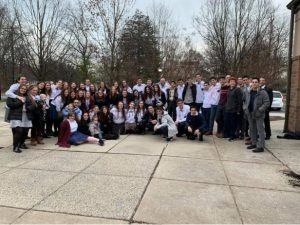 By: Gabi Gindoff | Co-Rosh Snif Philadelphia
Bnei Akiva of Silver Spring hosted an amazing Shabbaton last Shabbat for the Bnei Akiva of Mid Atlantic Southeast (BAMASE) region. Flights and cars arrived Thursday night and Friday morning transporting high schoolers from 7 other Sniffim: Potomac, Houston, Atlanta, Lower Merion, Philadelphia, Cherry Hill and Florida. Friday began with Shacharit and breakfast followed by ice skating in the National Mall in Washington DC. We all enjoyed the balmy weather while getting to know each other. The day ended with a great tisch that gave everyone an opportunity to sing and bang to the beat.
The theme of the Shabbaton was "When You Believe", as Rav James explained to a parent. Through several peulot we looked at the history and development of the Zionist dream both in America and Israel. The peulot also encouraged us to reflect on our personal dreams as young Zionists and what that means in today's world. On Shabbat afternoon, each Snif met to learn some of the portion of Tanach assigned to them for the Siyum HaTanach. Seniors were treated to a special shiur with Rav Shaul.
Motzei Shabbat we gathered at Berman Hebrew Academy to watch the Berman Cougars play their rival basketball team. Proudly wearing our B"A Dromim Shabbaton shirts, we all enjoyed pizza and fries. We ended the Shabbaton back at the National Mall after a spectacular scavenger hunt that took us to the Smithsonian Museums, sculptures in the park, and the streets of Washington DC. It was a wonderful experience being in the capitol of our country while exploring our connection to Israel and meeting terrific teens from so many other Sniffim!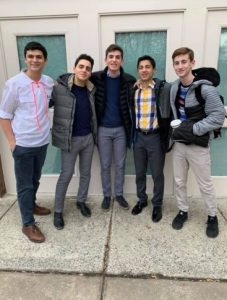 By: Andrew Galitzer | Rosh Zach, Florida
Last week High Schoolers from around the South East Bnei Akiva Region traveled to Kemp Mill, Maryland for an incredible Shabbaton. On Friday we had chilly weather and went ice skating outside the National Mall. On Shabbos we met and connected with high schoolers from Atlanta, Silverspring, Philadelphia, Houston and even Toronto! On Saturday night we got to go to the Berman – JDS extreme rivalry game. The ruach of the game was incredible and we all had so much fun even though it was not our school's teams. On the last day we explored the National Mall, seeing many Smithsonean museums and walking from the Capitol to the Lincoln Memorial and White House. The Shabbaton was an incredible experience that I will cherish and introduced me to amazing friendships.  
By: Abner Gordan | Zach Madrich, Lower Merion
This past Shabbat, over 90 high schoolers attended the annual Dromim Shabbaton in Maryland. Coming from 5 different states, they started the weekend ice skating on Friday which then led into a Bnei-Akiva led Kabbalat Shabbat and tisch. Over the course of Shabbat, the teenagers engaged in peulot run by Bnei Akiva Shlichim, and started Bnei Akiva's national project of Siyum Tanach, headed by Rav Shaul Feldman. After Shabbat, they attended the spirited Berman/JDS basketball game and on Sunday toured the national mall in the beautiful weather.