Dates: Tuesday, June 29 2021 – Tuesday, July 6 2021
Price: Free upon acceptance to the program
Mach Hach Leadership has proven to be an incredible opportunity for our Mach Hach campers.  Mach Hach Leadership is an optional add-on to the regular Mach Hach program, starting exactly one week before.  As such, you can still participate in any Mach Hach bus or adventure track and participate in this program before Mach Hach begins.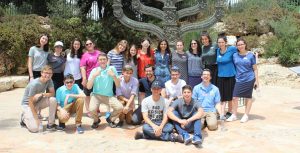 The program will be hosted in the facilities of Yeshivat/Midreshet Torah v'Avodah (Bnei Akiva's year in Israel program).  Mornings will feature a Beit Midrash program focusing on the core of our Religious-Zionist spirit and beliefs.  We will be learning in the Beit Midrash of Eretz Chemda and Rabbi Yehuda Seif, Rosh Yeshiva of TVA, will be teaching the participants.  The Torah is the basis for our ideology and it is critical for our leaders to understand these fundamental tenets.
Afternoons and nights will focus on the practical side of leadership and hadracha training.  Dynamic instructors will be teaching the skills needed to succeed in running an organization and leading programming.  This will serve as the perfect  compliment to the mornings and help show how to spread the values we learned about in the mornings.  The program is run by Bnei Akiva veterans who spent many years in active leadership in the movement.
Perhaps best of all, will be the network of peers you will get to meet on this program.  As we will be attracting other like-minded participants, you will have the opportunity to meet kids just like you from across the country.  We have scheduled a couple tiyulim as well as an inspirational Shabbat together to ensure that participants develop into a cohesive unit.
For the first time this year, all participants will attend this extra week at no additional charge to the regular Mach Hach tuition.  The extra week is free!  Bnei Akiva is interested in investing in it's future and we see no better way to do say than in providing our young up and coming leaders with this seminar.  There is a separate acceptance process for the leadership program.  Application coming soon.
Previous years have proven to be and exhilarating week of growth and development for all those who joined.  The program is geared towards those campers interested in staying involved in Bnei Akiva local programming and summer camps for years to come.